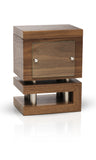 Terra Amici
The design of this one-of-a-kind pet urn evokes cherished memories that elevate your spirit. Crafted from premium American Walnut and joined with modern aluminum pillars, this resting place for a beloved companion features a removable glass mount for a photograph. Natural wood grain patterns are unique to each urn, which will appear with slight variations from the grain pictured shown.
Engraving is available for an additional $50, using a minimalistic metal plate in either gold or silver. 
Please select the engraving option above, and we will develop design options for
you to choose from
.
Capacity: 100 cubic inches.

Size:  

H 9 1/2" x W 5 "x L 7 ".  Photo frame's dimensions are 4" x 5"

Weight:  2 lbs

Material:  Wood

Care: 

Dust off the surface with dry soft cloth.  Refrain from using water or house-cleaning detergent.